Image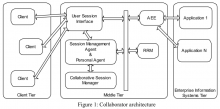 Summary
COLLABORAtive Framework for Remote and Mobile users
Description
The major goal of the project is the realization of a software environment called Collaborator (Collaborative Framework for Remote and Mobile Users) to provide a shared workspace supporting the activities of virtual teams. The project will not only provide a collaborative tool, but will promote the use of state of the art technologies (web, agent technologies etc), integration in a seamless way of these technologies, ubiquitous and seamless access to services (from fixed or mobile networks), as well as personal mobility support. The solution will be validated in a real context represented by companies from different sectors of the industry (Telecommunications, Construction) showing its applicability, interoperability, usability and flexibility.

Objectives:
The main objective of the project is the realization of a software distributed environment for the synchronous sharing of applications among remote and mobile users allowing the use of heterogeneous hardware (desktop and laptop computers, PDAs) using different operating systems and different kind of communication systems (LAN, Internet, mobile networks). The project aims to promote new methods of work based on a seamless integration of new technologies and infrastructure, as it will support efficient synchronous collaborative work between virtual teams in a dynamic networked environment. Another goal of the project is to explore and validate these assembled technologies and software environment in a real context via field trials.

Work description:
Increasingly more workers need to access enterprise information remotely as well as to collaborate with others from different places, not only from their offices. They need an effective support by new collaborative tools taking benefit from the broadband and mobile infrastructure already available. The project aims to produce a software environment to provide a shared workspace supporting the activities of virtual teams acting on a heterogeneous network composed of wired and wireless subnets through different kinds of devices (e.g., desktop and laptop computers, PDAs). It exploits standard Web technologies enhancing the classic Web communication mechanisms to support synchronous sharing of applications. Collaborator allows a group of users to share different documents and applications and divide themselves to work in parallel on the documents and with the applications. Collaborator offers meeting scheduling facilities that simplify the negotiation among participants taking into account the willing of absent users too. Moreover, users may want to join an ongoing session and/or join a session after losing one or more sessions. Meeting scheduling and late joining support is realized through agents. Another goal of the project is set up a trial environment to explore and validate the benefits of integrating Collaborator with emerging technologies such as: third generation of mobile networks and terminals and new generation of home appliances. The field trials will not only assess the technical quality of the Collaborator environment, but also the usability and "soft systems" aspects in the context of mobile remote workforces.

Results:
1. Realize a software distributed platform to support remote and collaborative work for virtual teams;
2. Integrate this software platform with existing and emerging technologies exploiting their different levels of maturity;
3. Explore and validate the integration of such technologies in a trial enterprise environment, based on requirements from different sectors of the industry.

Milestones:
1. Collaborator platform prototype (1st yr);
2. Final Collaborator s/w environment completed.
Partner
ATOS ORIGIN INTEGRATION (FR)
CENTRE SCIENTIFIQUE ET TECHNIQUE DU BATIMENT - CSTB (FR)
CONSORZIO NAZIONALE INTERUNIVERSITARIO PER LE TELECOMUNICAZIONI (IT)
TAU - TECNOLOGIA AUTOMAZIONE UOMO (IT)
TELECOM ITALIA SPA (IT)
UNIVERSIDAD POLITECNICA DE MADRID (ES)