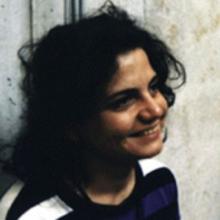 Assistant professor
Monica Mordonini is a researcher at the Department of Computer Engineering of the University of Parma since 1999.
She received a Laurea degree in Electronics Engineering in 1994 and a Ph.D. in Information Technology in 1998, both from the University of Parma.
From 2001/02 onwards she was the teacher of several courses at the Faculty of Engineering of Parma:
 
• Information Systems course of Diploma in Computer Engineering
• Course on Fundamentals of Computer Science Degree in Engineering Management
• Course on Fundamentals of Computer Engineering degree
• Course on Software Engineering .
• Course of Laboratory for Computer Science Engineering
• Course on Knowledge Engineering
 
It also to detect the activity of counseling to certify electronic tickets as required by Ministerial Decree of 13 July 2000 and subsequent. 
Her research interests are in the field of artificial intelligence, mainly in the study of visual sensors unconventional vision algorithms for autonomous systems and application of video surveillance.
More recently, the research also covered the issues of information extraction from distributed multimedia databases and applications for the semantic web.
Telephone
+39 0521 905735